Democrats: Let's Protect The Bob Mueller Investigation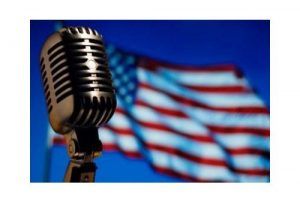 Microphone and US Flag

View Photos
During the Democratic Weekly Address, Senator Ron Wyden (D-OR) touted legislation to protect Special Counsel Robert Mueller and said that President Trump has already interfered in Mueller's investigation.
Wyden was Tuesday's KVML "Newsmaker of the Day". Here are his words:
"Hello. I'm Ron Wyden, United States Senator from Oregon. This week, America looked back at the remarkable life of President George Herbert Walker Bush.
He cared deeply about our country, and his career in public service began long before he sat in the Oval Office. He was a decorated Navy pilot. He served two terms in Congress. He was a diplomat, a leader in the intelligence community, and Ronald Reagan's Vice President.
As President, he signed legislation that protected Americans with disabilities, and he strengthened clean-air rules and raised national education standards. He also set the country on the path to a balanced budget. It was all done in bipartisan cooperation with Democrats in the Congress.
That's what Americans want their elected officials to do — set aside partisan divisions and do what's right for our communities and our country.
That brings me to one of the key issues that Americans are focused on today.
There is bipartisan support for legislation protecting the Mueller investigation into Russia and Donald Trump. Information that's just recently come to light shows why that's so needed.
Donald Trump has claimed for years that he had no business ties with Russia. It is now clear that that's been false.
Deep into 2016 — after Donald Trump had secured the Republican nomination — longtime Trump 'fixer' Michael Cohen was negotiating a deal with Russian officials to build a Trump Tower in Moscow. Trump family members knew about it. There was even a proposal to give a $50 million penthouse as a 'gift' to Vladimir Putin.
So here's why this is so important. From the beginning, I have said a top priority for this investigation is to follow the money. Following the money has uncovered massive corruption and revealed a growing web of lies told by the President, his aides, and his closest associates. The pattern of Trump flattering Putin and misleading the public while seeking to profit from Russian money is impossible to just ignore.
And meanwhile, it's not a matter of IF he will interfere with the Mueller investigation — the interference is already happening. The president attacks Mueller on a daily basis. He dangles potential pardons like carrots to influence potential witnesses. He installed an acting attorney general, Matt Whitaker, whose prior prejudicial comments suggest that he is hostile to the investigation, that includes even musing about ways of killing it behind the scenes.
So here's the bottom line. The Mueller investigation is rooting out crime and corruption that Trump and his associates are desperate to cover up. That's why the president is lashing out.
There is bipartisan legislation at the ready that would defend Bob Mueller against Trump's attacks on his work, but Leader McConnell has blocked it at every turn. That cannot go on any longer. The Congress must make clear that nobody in America — not even the President — is above the law. That is one of the founding principles of our nation.
It is time for Republicans in Congress to put country over party and work with Democrats to protect the Bob Mueller investigation. Thank you very much."
The "Newsmaker of the Day" is heard every weekday morning at 6:45, 7:45 and 8:45 on AM 1450 and FM 102.7 KVML.