Fire A Common Thread For Local School's Fundraiser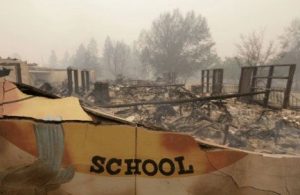 Paradise Elementary School burned to the ground in Camp Fire

View Photos
Paradise, CA – Sonora Elementary School is using one of its best fundraisers to aid its counterpart in Paradise after the Camp Fire burnt the school to the ground.
The devastation and destruction a fire can cause is an experience Sonora El staff and students can relate to after flames ripped through several of the school's classrooms this same month in 2013, as reported here. The school used the "Fill the Bus" drive then and with the publics generous donations was able to resupply the classrooms. This time they hope to do the same for the 570 Paradise Elementary students by holding another drive. It will be held this Saturday from Noon until 3 p.m. at the Sonora Elementary Parking Lot located at 830 Greenley Road in Sonora.
Both school supplies and/or gift cards are being accepted. School officials have provided this list of needed items: paper, pencils, pencil boxes, crayons, colored pencils, pens, washable markers, highlighters, notebooks, Kleenex, glue sticks, binders, dividers, pencil sharpeners, hole-punch, erasers, scissors, tape, rulers, yard sticks, index cards, calculators, backpacks, lunchboxes, staplers, staples and Scotch tape.
It is one of numerous fundraisers taking place in the community. Click here to view an earlier story detailing other events.