MTHCD Touts 'Stay Vertical' Senior Health Program, Updates Projects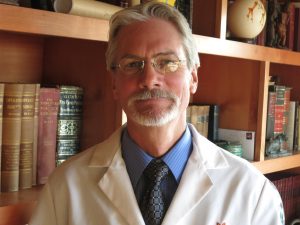 Dr. Randy Smart Mark Twain Health Care District Executive Director

View Photos
San Andreas, CA –Health care district officials report progress getting seniors out of their lounge chairs, supporting juvenile victim-witnesses, and building a new community health clinic.
As reported here, over the past several months, Mark Twain Health Care District (MTHCD) officials are working on filling service gaps in local rural health care and expanding viable services by funneling increased district dollars and other support means into a variety of projects and initiatives.
MTHCD Executive Director Dr. Randy Smart says he is amazed at the response to "Stay Vertical Calaveras," a recently initiated, free to the public series of open exercise and strengthening classes, specifically designed to help prevent people from falling. Supported by a $60,000 program grant from the district, he says it is an understatement simply referring to it as "money well spent."
Outwitting A Surprising 'Assassin'
While for many it is a startling statistic, Smart stresses, "The number one thing that will kill somebody over 65 — it is not heart attacks or strokes – it is falling and breaking a bone." These incidents, he says, often trigger what can become a quickly disabling health decline for about 80 percent of elder patients. He adds that injury falls are statistically higher in rural environments where bigger physical challenges exist such as less level ground surfaces, more steps — and more household animals.
Over the past two months, Smart reports that the Stay Vertical program has exponentially grown under the direction of Steve Shetzline, who also serves as the executive director of Murphys Senior Center.
Smart says that the phone is ringing off the hook with inquiries and the classes well attended, including by more folks showing up in their sneakers and sweats than whom RSVP'd. To date, he shares, "We have trained 25 instructors, established seven different sites around the county…conducted over 68 classes and worked with over 970 different students." A few of the instructors are also recording some pre and post-class assessments, which will help provide outcome study metrics.
For more details on the latest class information and/or to sign up, Smart advises sending an email to stayverticalcalaveras@gmail.com or call 209 915-2450.
A Partnership For Children's Advocacy
Last week, the Calaveras Children's Advocacy Center held a grand opening event at its new home, located at 1934 Highway 26 in Valley Springs. Through the Resource Connection, it provides free licensed counseling, advocacy and support services for crime victims and witnesses under the age of 18. It also offers education and resources to non-offending parents, guardians, and\or family members.
The center's "new" home is located in a district-owned facility under a partnership agreement. Smart explains MTHCD additionally assists with infrastructural support, some donated equipment and space rental at a more than half-subsidized rate. The latter support, which acts as in-kind donation, provides the center a substrate that enables it to qualify for additional grant dollars. "Rural communities really don't have these kinds of facilities and Calaveras County is extremely lucky to have it," he maintains. "[Advocacy center staff members] have already engaged probably three times the number of children that they had projected that they would probably see…this is going to be a long-term thing."
He adds, "It is really tragic when children become victims or witnesses to crimes – or subject to abuse…but the opportunity for the district to step in and help these children and help them get back to a normal life is something we are really excited about."
Valley Springs Wellness Center Update
As for the district's long-awaited $9 million Valley Springs Wellness Center project, Smart estimates it is about ten percent into the construction phases with the pad now set and contractors marking out the 10,000 square-foot building.
"I have been working on it for three years and it looks way bigger than I thought it would — and we are getting phone calls every day," Smart states. So far, things are on track for a grand opening next June or July, he adds. As reported here, plans are for the new facility to be a regional health care hub that will closely integrate with Mark Twain Medical Center to provide a seamless and customer-friendly patient experience.
In other business, nonprofits with potential health care-related proposals that are interested in tapping the district's annual community grants program should take note that the application process begins again come January. According to Smart, of the total $100,000 available, last year the district awarded only about half of the funds, so plans are to promote the availability more heavily.
Asked about what kinds of projects the district might be interest in, he dryly notes, "When you are not using all your grant money, any idea can be a good one." The only caveat, he emphasizes, is that all proposal applications must promote health and requested monies cannot cover salary costs but must go towards the project work itself. Following a March deadline, funding awards will be announced in April with checks cut in May. Chosen projects will operate under a one-year-contract. For more information, click here.