MTHCD: Funneling New Millions To Fill Local Health Care Gaps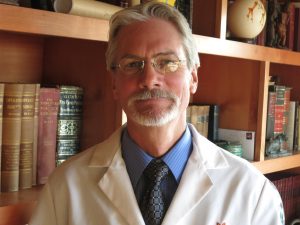 Dr. Randy Smart Mark Twain Health Care District Executive Director

View Photos
San Andreas, CA – As a sea of looming national challenges continues to threaten rural health care a Mother Lode health care district is charting new waters as a key local player.
Mark Twain Health Care District's (MTHCD) new partnership with Dignity Health, part of which pends voter approval on the June ballot, includes a transfer of nearly half the two entities' co-owned assets, as reported here. The district will be on the receiving end of about $6 million upfront after meeting its contractual obligations — with millions more to follow under other agreement terms.
In an interview with Clarke Broadcasting, Executive Director Dr. Randy Smart describes the prevailing new feeling in the district office is something akin to a kid waking up on Christmas morning.
"For the first time in our history — and our history started in 1946… we will be financially positioned where we can actually go out and do so much more in this county," Smart enthuses. "Prior to this the only thing we could really do is pay some utilities at the hospital and participate a little bit in the hospital management. But for the first time in our history — we will actually have a revenue stream and some money in the bank — and all of that we want to put back into the community."
Strategic Planning In The Works
On Friday and Saturday district staff and trustees will be participating in a two-day strategic planning meeting, where Smart says they will be talking about various existing and new ways to improve rural health here in the Mother Lode. The first rule, he says,  will be not to compete with other services in the county but to address needs not being adequately addressed.
"There are gaps in behavioral health…senior living…dental care and these places where people really need help — and particularly when you look at low-income, Medi-Cal, Medicaid — these people have very few choices that are not that good," Smart confides. Honing in on that thought, he continues, "If we fill gaps in a smart way, we can even generate even a little more revenue and do more. So [what the two-day meeting will be covering] is how to do that, where to do it, how to be responsible about it, and what kind of outcomes we would look for."
Beyond being an advocate, Smart says the district is adapting to a new mindset. As he explains it, "I think of it being a leader…being the tip of the spear where the health care districts can start collaborating with public health and social services — like child advocacy. So we can collaborate, lead the way…bring people together. These collaborative and collective solutions are so much better than going alone."
New Offering For Victim-Witness Youth 
A perfect and timely example of this is a brand new partnership the district has struck with Child Advocacy Counseling Services, run through grant dollars by Calaveras County's Resource Connection. The program provides a sensitive interface for families and children who are victims or witnesses of crimes — or perhaps in some way abused — or even suffering psychological issues as a result of a trauma such as a motor vehicle accident.
As Smart explains, "We have a multi-purpose facility that we purchased in Valley Springs that has maybe about 4,500 square feet — and we were able to lease it to this organization at a really discounted rate because it is something we can do as a public agency." Further describing the new space, he says it has been configured into a youth-friendly environment with a playroom, television and superhero murals. It also discreetly houses all the appropriate amenities such as video equipment and one-way windows that are necessary to effectively conduct sensitive interviews and examinations, such as for evidence collection.
"These are really vulnerable patients and people who, if you [handle their situations] right, they can still have a really rewarding and successful life," he emphasizes. "And if you do it wrong, they can become psychologically traumatized for the rest of their life." Smart states happily, "From what I understand, this may be the only rural county in the entire state that has a facility like this so we are super-excited about it." Even while the partners are planning what may be a grand opening sometime in May he surmises the district will probably find other ways to work together because the facility is such a positive.
Rural Health Care Struggling 
On the other side of the rural health care coin, according to Smart, is that health care industry officials are projecting upwards of 400 — roughly a sixth — of rural hospitals to close within the next ten years. Too, around 20 percent of the physician workforce across the nation has dropped out of rural health care. Since less than a fifth of the national populace lives in a rural area, he says federal and state emphases remain primarily focused on delivering adequate urban health care.
Smart calls the situation "very alarming," and something that the community really needs to know more about. He remarks, "The system is not stable, it is in trouble and it is going to take a really focused and committed effort to prevent closures and a worsening of access and services."
In California, laws passed in the 1980s requiring costly seismic upgrades to health care and facilities are going into enforcement in the next two to 12 years. If not somehow amended, the unintended consequences may be the demise of many more that are financially struggling. "MTMC's seismic liability is $12 million – probably one of the lowest in the state – and that is a huge amount of money for us," Smart states. However, he is optimistic that the district will be able to somehow deal with the expense.
A Brighter Local Outlook 
Ending with another "first" for MTHCD, Smart shares that the district's loan approval for its long-planned Valley Springs clinic is close to being finalized and momentum is otherwise gaining for the estimated $5.4 million project.
Plans are for the district to operate it in alignment with Mark Twain Medical Center but it will be independent. Consultants have been lined up to help figure out how best to maximize services and revenues. The clinic itself will feature 15 exam rooms, five doctors' offices and treatment and x-ray rooms along with state-of-the-art state equipment.
"We are fortunate that there is huge community support with supervisors, economic development – it is kind of morphing into a health care campus…developing a health care hub in Valley Springs," he states.  Plans are to begin construction by late this summer and have it ready for a grand opening sometime next summer. (To view a conceptual drawing, click into the image box slideshow.)