Record Breaking Voter Registration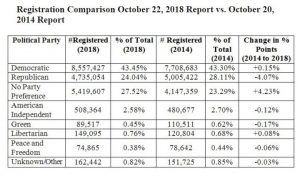 State Registration Comparison Chart

View Photos
Sacramento, CA – The Mother Lode remains a Republican strong hold, and trends across the state show No Party Preference followed by Democrats with the largest gains.
More than 19.6 million Californians are registered to vote in the 2018 midterms. Secretary of State Alex Padilla released the figures Friday reflecting an increase of nearly 2-million since the last midterm election in 2014. It is also the largest percentage of eligible registered voters in California history at 78.16 percent. The chart in the image box shows the party breakdown.
"It is nearly unprecedented for California to set a voter registration record in a midterm election," according to Secretary of State Padilla. "It has been nearly 70 years since we've seen a higher percentage of eligible citizens registered to vote for a midterm election."
Breaking down the numbers for Tuolumne County, Clerk and Auditor Recorder Debi Bautista details, "So there's 1067 new voters, and if you look at the party changes, there's 813 new No Party Preference, 156 new Republicans, 61 new Democrats and an increase of 43 new Libertarians." Click here (Tuolumne County voter stats) for a chart provided by Bautista of voter registration in the county.
Statistics put out by the secretary's office show that in Tuolumne County Republicans continue to have the highest voter registration at 41.22 percent, followed by Democrats with 29.36 and No Party Preference at 23.47 percent out of the nearly 32,000 registered voters. Calaveras followed suit with 41.45 percent Republican, 27.37 percent Democrat and 23.09 percent No Party Preference out of 29,591 registered voters. In terms of age, both counties saw more registered voters skewing 55 plus. Click here for statewide charts broken down by counties.
Padilla notes that the record breaking tally is likely boosted by California's new automatic voter registration program.  As reported here yesterday, the election office in downtown Sonora will be open today for early voting. Californians who are unsure of their voter registration status can check by clicking here.