PG&E Taking Heat For Cutting Power Last Month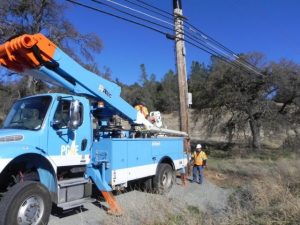 PG&E crews

View Photos
PG&E received 146 demands for reimbursement from customers who say the company's decision to turn off power to prevent wildfires hurt them financially.
The utility said Wednesday it won't pay any claims. PG&E shut power to 60,000 Northern California customers between October 14-17, including thousands in Calaveras County, after officials determined that winds threatened to bring down power lines and start wildfires.
Following criticism of the decision, the company submitted a report to the California Public Utilities Commission detailing its reasoning for turning off the power, and identifying changes that will be made moving forward.
They include notifying customers ahead of time whenever possible, informing communities about estimated restoration times more frequently, providing county office of emergency service officials with more detailed information and maps and creating a process to try to reduce overall restoration times.
PG&E reports that the company's in house meteorologists monitored the weather for several days prior to making the call to de-energize the lines. Factors included a Red Flag Warning issued by the National Weather Service, low humidity levels, projected sustained winds and the condition of the fuel on the ground.