Supervisor Rodefer Hears From Leaders In Washington, D.C.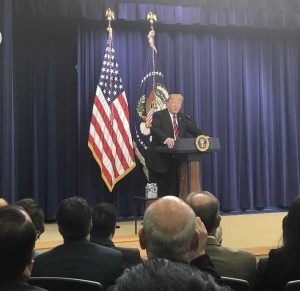 President Donald Trump speaking to county supervisors of California, Hawaii and Alaska

View Photos
Sonora, CA – District Five Tuolumne County Supervisor Karl Rodefer was among a contingency in Washington, DC this week meeting with senior administration officials, and President Donald Trump even made a surprise appearance.
Noting that all five of the Tuolumne County Supervisors got invitations to the Trump Administrations "state day," Rodefer says he was the only one who was able to make the trip.
The program, run by the White House's Office of Intergovernmental Affairs, actually started at the beginning of the year. It targeted all states and included county supervisors from both parties. Rodefer was on hand this week when the final three states participated in the event, which were California, Hawaii and Alaska.
Rodefer detailed that his day began with a tour of the White House and then the over 100 local lawmakers got briefings from cabinet heads, including Interior Secretary Ryan Zinke and Transportation Secretary Elaine Chao. Roderfer detailed the topics discussed, "Things like our roads, infrastructure, forestry management and personal property rights. You could name almost any issue that I get daily or weekly phone calls and emails about. They understand what I am dealing with on a day-to-day basis. That was loud and clear."
As for the take away for the county, Rodefer added, "This administration at their level is trying to help us, at our level, fix these problems. Sometimes that's funding, and sometimes that's just working with us to identify the right solution."
Rodefer pointed to a presentation from White House counselor Kellyanne Conway on the opioid crisis as an example of that, stating, "The one take away I would throw out is that in spite of the recent Supreme Court hearings, and in spite of some of the acrimony that's going on in the election process, the real people are getting the work done in both parties…They've had some tremendous successes; most notably associated with the opioid issue."
The real shocker, according to Roderer, came at the end of the event when President Trump walked in, headed to the podium and began to speak. Rodefer described the energy in the room as "electric," stating, "More than any single comment that he made, it was just the general tenor of being in the room with the man. I think that the consensus in the room, I don't care if you lean left or lean right, everybody in the room was energized by that man."
Giving his final thoughts on the day, Rodefer stated they had three hours and fifteen minutes with some of the most powerful people in the country, and he feels it was time they invested wisely (speaking with county leaders across the country). He concluded, "It was an awesome experience"