Two Heavyweight Rivals Met On The Grid Iron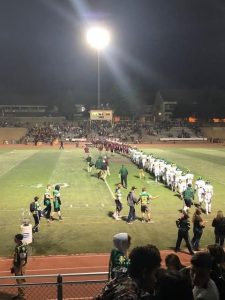 Sonora takes on Calaveras

View Photos
Sonora Wins Showdown
Written by Mark Ferreira.
The two teams tapped for a possible championship showdown, did not disappoint last night as they met in San Andreas and Sonora would walk away with the win 21-7 over Calaveras High.
The first quarter scoring for the Wildcats started off with a 16 yard run by Karson Clifton, who made the start after being out the last couple weeks. Bryan Wynne would add the extra point and the Wildcats would lead early 7-0. Calaveras would answer back with a 10 yard rush and after the extra point it was knotted at 7-7. Still in the first quarter, Sonora's Evan Bearden would haul in a Jake Gookin fade pass from 16 yards out and Wynne would add another. After one quarter of play it was Sonora 14, Calaveras 7.
In the second quarter, Gookin would fake a hand off and keep it himself and go 25 yards for a touchdown and Wynne would remain perfect on extra points.  Heading into half-time Sonora would take the lead, 21-7. The only miss Wynne would have all night kicking was a 22 yard field goal attempt for the left hash mark, typically one of the toughest kicks for a right footed kicker.
The second half would showcase the defenses of both teams. Wynne would end the night with two interceptions and Dalton Cueno would also have a pick for Sonora. The two heavyweights of the MLL would play the second half like a championship fight with neither team able to land a scoring blow.
The Sonora Wildcats remain undefeated in league play since they were moved to the MML and go about .500 with a record of 5-4 overall, 4-0 in league play.
Next week the Wildcats return to Dunlavy field for "Senior Night" and take on their cross town rivals the Summerville Bears in a game where family will root against family.
Summerville Stopped Short By Amador
Written by: Brandon Steele
Summerville traveled to Amador Friday night to fall to the score of 21-7. Going into halftime it was a scoreless tie. Both teams had turned the ball over multiple times, although neither side could turn those turnovers into points.
After the half, the Bears were able to strike first with a 55 yard touchdown from a Nick Veach run. Amador struck back quickly and tied up the game at seven each and then ultimately put the brakes on the Bears. Amador went on in the late third quarter to record on a rushing touchdown and then again in the 4th to put the icing on the cake and win the game. Summerville moves to 3-6 on the season and will prepare for rivalry week against the Sonora Wildcats.
Other Action:
Bret Harte High was defeated by Argonaut 35-3. Next week they have home field advantage as they take on rival Calaveras.