Trump Acts To Speed Up California, Other Western Water Projects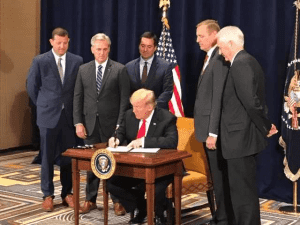 President Trump signs Executive Action on Western Water Oct 19 2018

View Photos
Washington, DC – President Donald Trump has signed an executive memorandum relating to streamlining regulations on major western water projects.
Trump's memorandum aims to speed up processing within several major endeavors, which include the Central Valley Project and California State Water Project.
As the ink was drying on the document, a number of U.S. Congressional Representatives, including California House Majority Leader Kevin McCarthy, Tom McClintock, Devin Nunes, David G. Valadao, Jeff Denham, Ken Calvert, and Doug LaMalfa released a joint statement.
They described the president's announcement as "an immense relief for the farmers and families of the San Joaquin Valley and communities across California."
The rest of the statement reads as follows:
"Due to the actions of environmental extremists and overzealous bureaucrats, California has been suffering from a years-long water crisis that has wreaked havoc in Central Valley farming communities that feed tens of millions of Americans. Productive land has gone fallow and farmworkers have lost their jobs. Communities across California have also been devastated as senseless government regulations have mandated that billions of gallons of water be flushed out to the ocean and wasted.
"Now, with this executive action, there is a strict timetable for rewriting the biological opinions that lie at the root of the water crisis. This executive action also prioritizes building critical projects to expand water storage in our state so that we can store more water during wet years for use in dry years.
"We commend President Trump for taking decisive action today that will build on the success of the WIIN Act, cut through bureaucratic roadblocks, address Sacramento's radical water grab, and increase the water supply to farms and communities across the state. California families can now rest assured that help is on the way."