Burn At Big Trees To Begin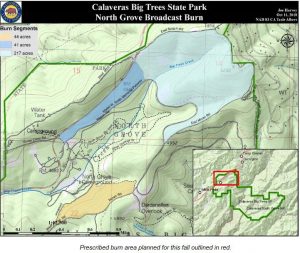 Calaveras Big Trees State Park North Grove Broadcast Burn

View Photos
Arnold, CA – Next week, prepare for visible smoke in the area of Big Trees State Park off Highway 4 as California State Parks and CAL Fire begin a series of prescribed burns.
According to fire officials, plans are to ignite the first one next Monday, pending favorable conditions. They say the goal is to complete a 302-acre section that was previously thinned to reduce fuel loads, allowing for a safer and more controllable broadcast burn. They add that much of the thinning work was funded through Propositions 84 and 1 grant monies from the Sierra Nevada Conservancy.
Communities near the park, including Dorrington, Big Trees Village, White Pines, Blue Lake Springs and Arnold may experience smoke from the burning operations. The Calaveras and Tuolumne County Air Pollution Control Districts are also involved in the activities in order to limit impacts to smoke sensitive areas. Pile burning will also take place through next spring within the North and South Groves as well as along the Big Trees Village and Blue Lake Springs park boundaries.
Some public trails and dirt roads near the burn area will close to public access during prescribed burn operations, including the Walter W. Smith Parkway and East Moran Road, which will be marked with closure signs. To view a map of the burn area click into the image box slideshow.
Along with being part of the prescribed fire program for vegetation management, hazardous fuel load reduction and wildlife habitat improvement, additional benefits of the burn include protection for the North Grove of giant sequoias and the Big Trees Village subdivision.