Woman's Alleged Wild Attack On Deputies Lands Her In Jail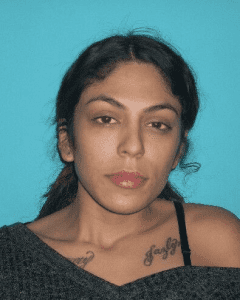 Leticia Camargo TCSO Booking Photo

View Photos
Sonora, CA — An out-of-control casino customer wound up in jail on a $50,000 bail after allegedly launching a bizarre attack against deputies called in by in-house security.
According to Tuolumne County Sheriff's spokesperson Sgt. Andrea Benson, just before 11 p.m. Tuesday, deputies responded to Black Oak Casino, for a report of an intoxicated female. When the deputy exited his patrol vehicle to speak with Tribal Security, Leticia Camargo, 19, of Atwater immediately began screaming and shouting while approaching the deputy in an aggressive manner.
Sgt. Benson says she was restrained with help from security but continued yelling and flailing, also making multiple attempts to pull away She adds that the woman was observed to have slurred speech, watery bloodshot eyes smelled of alcohol.
As deputies placed the suspect into the patrol vehicle's back seat, Benson says the woman's behavior further escalated as she spat onto one deputy's face and attempted a similar attack on another deputy. Then, once inside the patrol vehicle, she began kicking the rear passenger window while proclaiming numerous times that she was going to kill and bury the deputies on scene as well as their wives, children, and mothers.
The deputies transported Camargo to Tuolumne County Jail, where she was booked on a felony count of resisting arrest with threats and violence as well as three misdemeanor counts of battery on a peace officer, resisting arrest and disorderly conduct with alcohol.