Update: Malfunctioning Railroad Crossing Creates Traffic Delays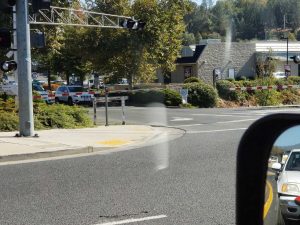 Stuck crossing arm at the main entrance to the Junction Shopping Center in East Sonora along Mono Way

View Photos
Update at 3 p.m.: The CHP reports that the railroad crossing arms at the entrance to the Junction Shopping Center in East Sonora along Mono Way have been fixed and traffic is moving freely once again. No details were given regarding what caused the malfunction. Further details on the traffic alert are below.
Original post at 2:20 p.m.:  East Sonora, CA — A traffic alert in East Sonora due to problems at a railroad crossing.
The CHP reports that the arms along the tracks at the front entrance to the Junction Shopping Center, near the KFC restaurant, are stuck in the downward position. Motorists caught behind the arms have been calling Clarke Broadcasting reporting the problem.
Traffic is backed up not only at the entrance but also along Mono Way. The CHP reports that a call has been put into railway officials, but there is no word on a possible repair time. Motorists will want to avoid the area as traffic is moving slowly along Mono Way. We will have an update as soon as more information comes into the news center.
A special thanks to our community partner Mia MacKinnon for sending in a photo.