Wilderness Mountain Named In Honor Of Fallen Marine Sergeant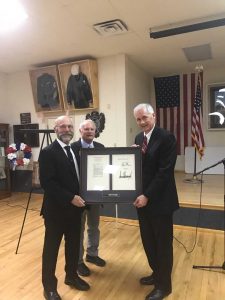 Russell Mote, Rocky Deal and Tom McClintock

View Photos
A mountain in the John Muir Wilderness of the Sierra National Forest is now officially named Sky Point, in honor of fallen Marine Staff Sergeant Sky Mote.
Congressman Tom McClintock this week handed the resolution to Russell Mote, father of the late Sergeant.
Sergeant Mote was tragically killed in Afghanistan in 2012 and was awarded the Navy Cross for heroism. The renamed mountain towers over a region where Mote and his family often hiked and camped. Mote resided in El Dorado.
Congressman McClintock's remarks are below:
I want to thank all of you who have come here today to honor the memory of Marine Staff Sergeant Sky Mote.
Lincoln was right – there is nothing that we can say or do to honor his deeds or the magnitude of his sacrifice.  His heroism under fire and his sacrifice for his fellow Marines is far beyond our poor power to add or detract.
Rather, we come in part to draw inspiration from them.  We come to reflect on his young life, with all the hopes and joys and aspirations he had – all sacrificed for a country that to this day represents what Lincoln called the "last best hope of mankind."
We come in gratitude to know that in every generation there are such heroes among us who will step forth from the safety of hearth and home and into mortal peril to protect their fellow citizens.
We come out of recognition that although the suffering of these fallen heroes has ended, the suffering of their families goes on day in and day out.  We honor their loved ones in hopes that in some small way, we can help fortify them against the loss that they bear every day of their lives.
But most of all, we come in response to Shakespeare's plea that "this story shall the good man teach his son."
A few years ago, I had the honor to visit members of the Third United States Infantry Old Guard who tend the Tomb of the Unknown Soldier at Arlington Cemetery.
They are meticulously dressed and painstakingly drilled as they honor the memory of our fallen warriors.
It is quite a sight.  On warm autumn days like this, hundreds of tourists show up to watch the Old Guard for a moment as it honors the sacrifices memorialized at the tomb.
But, tourists don't often show up during hurricanes.  Or in driving snow storms.  Or at two o'clock in the morning in sleet and hail.  But the Old Guard does.
I asked a young sergeant, "Why?  Why do you do this?"
"Because Sir, we want to demonstrate to our fellow Americans that we will never forget."
For precisely that reason the Congress unanimously passed, and the President signed into law, HR 979 to assure that our fellow Americans never forget Marine Staff Sergeant Sky Mote.
This law designates for all time a mountain in the John Muir Wilderness of the Sierra National Forest as Sky Point, towering over a region where Sky Mote and his family often camped and hiked.  It is a small token of our nation's respect of his heroism, our appreciation of his sacrifice, our sympathy for his family, and of our solemn pledge that succeeding generations of his countrymen will never forget him.
Today it is my honor to convey the signed bill to Russell Mote and the Mote family that seals this pledge from a grateful nation.