Ferguson Fire Community Meetings On Recovery Efforts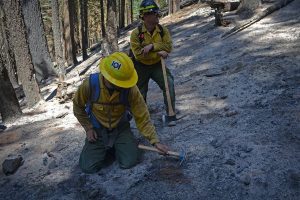 BAER team members from the National Park Service on Ferguson Fire burn scar

View Photos
Mariposa County, CA — Mariposa County will host two Post Ferguson Fire Community Meetings – one tomorrow and a second one next week.
Residents of El Portal, Yosemite West, Foresta and surrounding communities affected by the blaze are invited to learn about the Burn Area Emergency Response (BAER) and interagency coordination that has taken place since the fire's containment in August. The first gathering is Thursday (Oct. 18) at 6 p.m. at the El Portal Community Hall located at 5512 Foresta Road in El Portal. The second meeting will take place next week on Wednesday, October 24th at the Yosemite Bug Rustic Mountain Resort on Highway 140 in Midpines.
The focus of the meetings will be to discuss the processes that have been put into place to help reduce the risk of flooding, debris flows, and road closures. Preventative plans are being developed to stop those risks and actions that will be taken where debris flows or road closures are most likely to occur. Organizers share that close coordination and communication between agencies will be implemented to insure that the proper response takes place if one of these event occurs and ways to minimize road closures where necessary.
On hand to answer questions at the meetings will be officials from the US Forest Service, Yosemite National Park, California Highway Patrol, Mariposa County Sheriff, Caltrans and Natural Resources Conservation Service. For further details or questions contact the Mariposa County District 1 Supervisors Office at 209-966-3222.