Banner Year For Tuolumne County Health Fair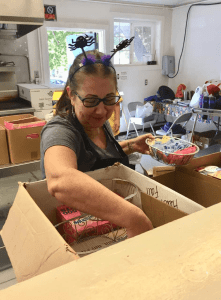 Women of the Moose member packs up food service supplies as the 40th Tuolumnr County Health Fair wraps Oct. 17 2018

View Photos
Sonora, CA – California's oldest community health fair, now in its 40th year, served somewhere between 2,000 and 2,500 folks at Mother Lode Fairgrounds.
As hundreds of volunteers began to break down pavilions full of booths and service stations, fair coordinator Kathy Amos described the milestone year as also a banner one for the two-day event. Blessed with great weather, she recounts, "It was a packed house [participant-wise], and all the booth spaces filled with some overflow into outdoor areas."
Relishing the turnout, she continues, "I had a couple of people today that had never been here before and their first reaction was 'ah, wow – this is really a big deal', and I go 'yeah, it really is' – and it IS really the variety of services and the community cooperation that makes it that way."
History Of Success, Service Continues
Looking back on the fair's long-standing success, she smiles. "Who would have ever guessed that we would have made it as the longest running health fair in the state of California — and one of the top five as far as in size and numbers — so we are really pleased about that." As far as the future bodes, she maintains, "As long as the community finds it valuable — which they are telling us that they do, by the number of participants — and we can do it, we will continue on with the high caliber of services and screenings that we provide here for the community."
Altogether this year, the fair offered somewhere between 15 and 20 different screenings, all free of charge. As the forms remain with the participants, it is impossible to know the total number of screenings, according to Amos, who encourages folks to share their forms with their health care providers. "I can tell you by how busy we were by the lines for blood tests, blood pressure, eye exams and other stations, we were at least as busy if not busier than last year," she adds.
While the specific services offered every year vary, based on the businesses that volunteer, she says Adventist Health provided several screenings, including bone density, which is among the most popular. While there were no dental services this year, skin services were available.
Thousands Of Dollars Of Services At Nearly Zero Cost
"The health fair changes every year…the blood draw is a hallmark, and this year's cost of $20 was a roll back from last year when it was $25," Amos explains. The blood draw fee pays for the lab processing costs and provides a few extra dollars for the operations budget, she confides.
As for how much folks save who come out to take advantage of all the free health services, Amos confides, "We have kicked around a few numbers and they are very soft numbers…but if you were to purchase all the services here it would be well over $5,000 in office visits, lab fees, the different screenings and other services."
Even as the fair wrapped up, Amos says planning for next year is underway with dates already inked in for Oct. 16-17. "We will begin in earnest in July with our first committee meeting," Amos notes.
Her wish list includes attracting more volunteers for positions ranging from sitting and standing to serving as runners for stints of three hours up to eight hours or more. "We were a little short this year. If you are interested, call Cindy Perkins at the Health Department at 533-7428 and get on a list…and we will call you," she promises.