California Pump Prices Could Hit Above $4 A Gallon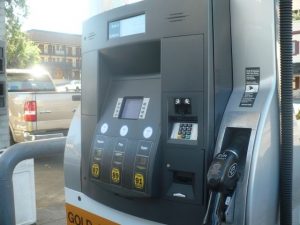 Stock Photo Gas pump

View Photos
Sonora, CA — Typically after the summer season gas prices go down in California, not this year – in fact they have already spiked and could go above $4 a gallon.
Gas prices in California have jumped almost 20 cents in the last month, according to AAA. In September, the average cost per gallon at the pumps was $3.62 for regular unleaded gasoline. This month the price is $3.81. AAA reports the hike is being fueled by Wall Street speculation as the U.S. prepares to issue additional economic sanctions against Iran that will take effect Nov. 4th.
Some analysts predict that could create a domino effect by possibly removing 1.5 million barrels of oil per day from the global market, dwindling supplies, and triggering oil prices to soar above $100 per barrel. That would be double what crude oil was trading for at the beginning of this year while currently it is near $80 a barrel.
"Everyone is watching to see how much the Iranian sanctions will actually impact the global market," said Michael Blasky, spokesman for AAA Northern California. "Some speculators are betting on $100 oil prices, and if that occurs, it would likely bring California's gas prices over $4 a gallon yet again."
That has not happened since July 27, 2014. Currently the statewide average is the highest price since that same month in 2015. AAA notes that California gas prices are generally higher than the rest of the country due to taxes and stricter environmental requirements.  "Because of our environmental requirements, California's fuel market is very isolated from the rest of the United States. Almost all of the gasoline in California is produced from California refineries," comments Blasky.
Additionally, the state does not change from its higher cost summer blend until November while the rest of the country has already switched to easier-to-make autumn blends.
"Californians should get a price break when the state switches from our summer blend of gasoline, which is more expensive to produce than our winter blend," Blasky said. "But right now, it doesn't appear that we'll see the typical 25 to 60-cent decrease that usually occurs at the end of the year."
The average price per gallon of unleaded gas in the Mother Lode is $3.50. For pump prices at specific stations, click here.