Governor Brown Revisits His Mother Lode Roots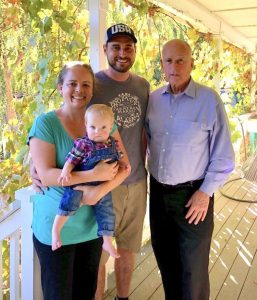 Emily, Joel and Kate Metzger with Gov. Jerry Brown in Vallecito

View Photos
Vallecito, CA – A Mother Lode couple recently diverted gardening activities in their quiet neighborhood yard to help California's governor dig up some of his own nearby local roots.
Vallecito resident Joel Metzger recounts to Clarke Broadcasting that, while working on some gardening projects this past Sunday afternoon, he noticed a black SUV idling across the street for many minutes parked by a historic building known to locals as the Dinklespiel store.
Walking over to ask if he could offer any assistance, Metzger spied the man in the front passenger seat who he thought bore somewhat of a resemblance to Governor Jerry Brown, and with good reason, it turned out.
"So, I asked, 'are you Governor Brown and he replied, 'yes, indeed I am,'" Metzger sheepishly admits, still a bit incredulous over the answer. "So, then I asked 'what brings you to Vallecito and he proceeded to tell me that his great-great grandfather Giovani Cuneo used to own a store in the early 1850s during the Gold Rush in Vallecito and he was in town trying to find the location of the store and see the history that his great-grandfather had made here."
Sharing Local History And A Map
Metzger, the external affairs, conservation and grants manager for Calaveras County Water District, knows a bit about local history, hailing from one of the area's well-established farming families. Too, five years of living in "downtown" Vallecito has allowed him to glean more lore and even acquire a map of the area dating back to the turn of the last century. When he offered to show it to the governor, Brown readily accepted.
Heading back across the street to tip off his stunned wife Emily, who was inside with their baby daughter Kate, Metzger brought out the map and rolled it out over a tabletop. Peeking out the front window, the couple saw Brown and his wife Anne heading up their pathway and porch stairs without a security detail.
After welcoming them in, Metzger says the two couples initially discussed Vallecito history, mining days along with Brown's curiosity of finding out where his ancestors had lived, and his passion for it. The discussion gave way to numerous other topics, including water policy, Metzger confides. "We ended up giving him a tour of the front yard where we love to garden," he adds, which extended the conversation to Brown's ranch in Colusa County, where the governor and his wife said they plan to spend a lot more time upon the end of his final term.
"They told us about that and that they planted over 100 olive trees to make olive oil…and I told him a little bit about our farming background…the conversation became much more like an old friend," Metzger says quietly. "He was really inquisitive and fun to talk to," he further comments, adding that upon saying their goodbyes, he promised to send Brown any additional research about the old store he could dig up.
Making Memories, Tracing Roots
Before the Browns departed, Ann took and shared a keepsake photo of the Metzgers on their front porch with her husband. Metzger says a few hours later he was able to put together more information for the governor and sent it along.
"I will just never forget — my wife and I looking at each other, holding baby Kate — and saying, 'oh, my goodness, did that just really just happen'…we never would have imagined meeting the Governor of California like that with no warning," Metzger recalls. "We will treasure that experience for the rest of our lives, it was really just that incredible."
Brown's property in Colusa traces back to the family of his paternal grandmother Ida, the daughter of August and Augusta Schuckman. The family of his maternal grandmother Alice, daughter of Hippolyte and Julia Cuneo, built the Cuneo building in Vallecito. Hippolyte was one of the sons born to shopkeepers Giovani and Zelia Cuneo, who respectively immigrated from Italy and France. Where the structure stood across from the Vallecito Post Office now stands a garage.
Made of hand-quarried local rhyolite stone and meticulously assembled, it featured big metal doors that further protected it against fire. "It passed through a number of owners and over the years fell into disrepair and the roof eventually collapsed," Metzger shares. While an owner had it torn down in recent years, to prevent kids from climbing up onto the ruins and getting hurt, he says he hears that the pieces are still somewhere around in storage. To view photos of the building intact and in ruins, click into the image box slideshow.