Casino Invites Nonprofits To Seize The Moment, Grab Some Cash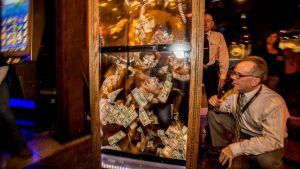 Black Oak Casino Resort's Cash Cube

View Photos
Sonora, CA – For what will be the 16th year in a row, a human-sized cube will be dispensing whirls of currency to local charities in time for helping ahead of the holidays.
In just a few weeks, Black Oak Casino Resort's annual Community Grab for Cash, set for Nov. 8, will again offer ten not-for-profit organizations a way to earn up to $5,000 for their causes. Describing it as one of Black Oak Casino's traditions to kick off the holiday season, General Manager Aaron Moss enthuses, "It allows us to support organizations that are doing great things in our community while having fun doing so."
Currently, the casino is accepting applications from groups in Tuolumne and Calaveras counties who, if chosen as one of the lucky ten, will each designate their potential official "cash grabber" to enter the cube.
Once inside, entrants will separately have 30 seconds to snatch up as many possible of U.S. bills totaling $5,000 that will be blowing around them. Since the casino first held the event back in 2004, cube winnings have provided more than $300,000 to Tuolumne and Calaveras charities and nonprofits — providing literal windfalls during what is, for many groups, a season with focused fundraising goals.
Interested nonprofits may apply by submitting by Oct. 22 a one-page letter to Black Oak Casino Resort. It needs to include the organization's mission statement, size, funding needs, and the members of the community it serves. Submissions should be emailed or faxed to Black Oak Casino Resort, attention: Ada Valadez at avaladez@blackoakcasino.com or 209 928-9301 (fax). For more details, call 209 928-9410.