Local Law Enforcers Strut Their 'Lip Sync Challenge' Stuff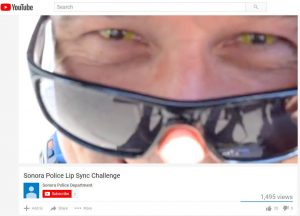 Sonora Police Lip Sync Challenge screen shot of Chief Turu VanderWeil with Thriller eye lenses
Sonora, CA — While lip sync nights and contests have been part of American culture for awhile, a national wave of police and firefighter lip sync challenges building across social media since summer has reached the Mother Lode.
Today, the trend splashed down in Sonora as Chief Turu VanderWeil acknowledged to Clarke Broadcasting its lip sync video release on its social media channels. The inspiration did not come as a challenge from another agency but from one of their channels' community followers, he says, which excited his personnel department enough to make the production happen.
"The goal was to show local law enforcement as part of the community and humanize us – and we do have a fun side – just as a community engagement project," Chief VanderWeil wryly recounts. He further describes the effort as an in-house production, tapping staff and Sonora High Wildcat athletes, cheerleaders and dancers as well as a local horse trainer for one scene. "We tried to include some local recognizable Sonora area sights as well," he adds.
Video Teases New Challenge  
The Sonora Police lip sync video, viewable here, is a mash up of three songs within a storyline that includes a dream sequence, nods to the "Back To The Future," and "Wild, Wild West" movies and Michael Jackson's classic "Thriller" video. As of this afternoon, it logged over 1,500 viewers.
Chief VanderWeil adds slyly, "On the…video…I did extend the challenge to my friend [Sheriff] Bill Pooley and the men and women of the Tuolumne County Sheriff's Department to join in on the fun — I am sure they will rise to the challenge."
The Calaveras County Sheriff's Office recently produced and posted a video with help from community partners. Featuring an Alan Jackson party hit and several entertaining setting around the county, it features various teams and squads lip syncing, dancing, playing air guitar — and literally, getting down and dirty in one muddy scene. You can view it here (or below).