Vote-By-Mail Ballots Being Mailed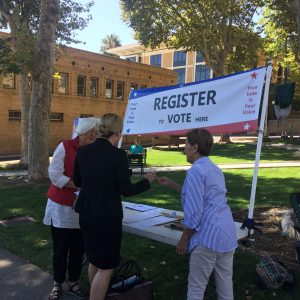 Voter registration booth in Sonora's Courthouse Park

View Photos
Sonora, CA — Very soon you will have the chance to cast your vote for the November General Election.
Get ready to check your mail box next week in Tuolumne County as ballots are being sent out on Monday.  "It's election time!" Notes excited County Clerk and Auditor Controller Debi Bautista. She details, "Starting next Monday, ballots will be sent out to all of our vote-by-mail voters. So, by a week from this Friday, almost all Tuolumne County voters, 75 percent of us vote-by-mail, should have their ballots."
Also, beginning Monday you can vote early at the Tuolumne County Election's Office at 2 South Green Street. There are local elections for county supervisors, special districts, school boards, ballot measures and state and federal races.
Of note, California's voter registration has hit an all-time high ahead of the November 6th election. Today, Secretary of State Alex Padilla reported that more than 19 million people are registered, which is nearly 76 percent of those who are eligible. The state has not had such a large share of registered voters since 77 percent of the eligible population was signed up ahead of the 1996 presidential election.