PG&E Catches Heat, Hears Input Over Community Wildfire Safety Program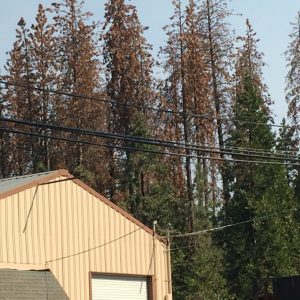 Dead trees along HWY 108

View Photos
Sonora, CA — Criticisms of poor communications and insensitivity to property owners' concerns prefaced and followed a PG&E explanation of its expanded, proactive vegetation removal practices that are locally raising ire.
It was around 11 a.m. this morning when the Tuolumne County Board of Supervisors and a team of PG&E representatives initiated a discussion and presentation by the utility originally slated on the agenda to begin at 10:45. The appointment was largely the result of Supervisor Randy Hanvelt and Assistant County Administrator Tracie Riggs pushing to have company officials explain — and improve upon — the company's Community Wildfire Safety and Vegetation Management Program roll out efforts.
In recent weeks, county officials have received numerous complaints by constituents, especially along the Highway 108 corridor, where there are concentrated activities underway. Many of these, which range from tree markings to complete takedowns of trees on their properties, have caught landowners by surprise. A few shared they had submitted opt-out forms, agreeing to take accountability only to find their trees were cut down in their absence. The turnout to the meeting filled the supervisors' chambers to about two-thirds capacity.
Empowered To Trim, Fell More Trees
The program was developed under a mandate by the Public Utilities Commission (PUC), which is requiring PG&E to take much more proactive actions towards reducing wildfire risks. Properties located in high fire threat districts through or by which its power lines run are now subject to expanded vegetation management protocol.
Tree crews are creating extra clearance spaces between the utility's power distribution lines and vegetation that leave much wider swaths. PGE Vegetation Manager Becky Johnson pointed out that as lines can sag and sway, the guidelines to take at least 12 feet of radial clearance on both sides are further expanded to not just trim or remove growth radially but to create vertical clearance spaces.
Johnson estimated that formerly the process touched about ten percent of an estimated 1.4 million involved trees. Now, assessment patrols are deeming many more as potential hazard trees, especially with tree mortality-related bug-killed trees.
A Failure To Communicate
All of the supervisors shared stories and or concerns of constituents complaining about overly zealous, aggressive personnel arriving unannounced on properties and not showing regard for landowners' concerns, particularly over the future of large, old-growth and otherwise healthy trees that are now being marked for pruning or removal.
"This has to be a cooperative effort and we all have to kind of buy in," Hanvelt criticized. "And when there are opt out clauses…and when people opt out and it does not happen…once you have done the work you can't repair it."
Supervisor Evan Royce expressed sympathy for Johnson and her colleagues as they address enormous related issues and responsibilities. He emphasized the need for PG&E to provide every landowner with clear understanding; outlining rights and processes for input and appeal as well as work scope and reasons for it. "It would give people a comfort to know there is a process," he said. He also stressed the need to work out arrangements for managing and removing debris so that neighbors are not negatively impacted.
Outreach Efforts, Help Needed
Johnson and her team agreed that the utility could and would do better. She also pointed out that the county could be helpful by impressing the need for owners to update their account contact information with their current phone number.
Along with a dedicated team making about 700 calls per day, Johnson says the process of outreach to property owners involves inspectors, who are certified arborists, who knock on doors and directly interface with citizens whenever possible. When no one answers, they leave informational door hangers providing contact details, which includes a dedicated program phone number and email address. There is also a website landowners can use. By typing in their address, they may determine what tier of fire hazard their property is in and what potential actions may be required.
Royce and other members of the public who showed up to comment complained of not receiving a call or a door hanger where they could find it — and yet found trees on their properties flagged, or painted with dots or x's. The PG&E team shared that trees marked with the former signal that pruning is indicated while an "x" means plans are to remove it. A ribbon or flag is meant to show that some kind of action may be required.
In closing, Rodefer commented, "I am going to take the gloves off a little bit…I hear that you are very concerned — and there is no doubt in my mind that PG&E staff and leadership is very concerned…but the people in this county do not see…your contractors are not reflecting that — and I hope you got the message…you have failed and need to do better."
To access the related PG&E website and read more about the program and where your property stands with regard to the vegetation management aspect, click here.