Looking Back And Into The New Water-Year In The Mother Lode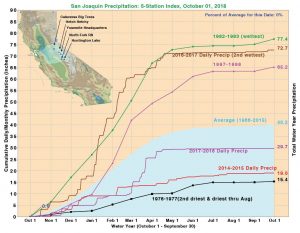 CDEC San Joaquin Precipitation Graph Oct 1 2018

View Photos
Sonora, CA — As California begins a new water year with what looks like a bit of rain in the immediate forecast after months of below-average precipitation, Clarke Broadcasting tapped state water officials for some perspective, looking back and ahead.
As water-years run from Oct. 1 through Sept. 30, the new one began this morning. The California Department of Water Resources is characterizing the just-ended 2017-18 water-year as one marked by hot and dry conditions and sporadic but significant precipitation. Statewide, the snowpack came in at just 58 percent of average and much of the state wound up with half or less than half of average rainfall while also experiencing record-breaking wildfires.
This 2018-19 water-year is beginning with showers in parts of far Northern California and the interior of the state's southern portion is under flash flood watches due to Tropical Storm Rosa. More widespread rain, including here in the Mother Lode, is due over the next 72 hours. Looking at the current forecasts, DWR Water Resources Engineer Sean De Guzman says that the San Joaquin Five-Station Index area, which covers our area, might see a quarter to a half-inch of rain through Thursday. Even if the total winds up on the lighter end, it will be more than we have gotten since mid-April.
He notes that the levels of measurable precipitation for the Five-Station area really started to flat-line in mid-April. "We had about .3 inches in May and nothing really measurable through August and about .1 inch in September," De Guzman recounts. Typically, he says the average precipitation between April and September for the San Joaquin Five-Station Index comes out to roughly 2.5 inches. In a normal year the numbers might trickle from about 1.7 inches in May down to .6 in June, .3 in July and .2 in August before slightly increasing to about .7 in September due to desert monsoonal storms coming over the mountains.
How This Week's Rains Might Measure Up
The expected rains may wind up providing about a quarter of what the San Joaquin Five-Station Index area typically gets over the course of an average October, according to De Guzman. But what is average any more? "It is hard to say what this water-year will bring. We are kind of ready for anything," he muses. "Some years start off wet, such as in 2012 with a big December, followed by what became the beginning of a five-year drought. It is so variable nowadays."
Continuing, he recalls, "We had one of the driest years on record in 2015. On the Five-Station, only 19 inches for the whole year but two years later we had the second wettest on record at 72.7 inches…there is no way to really pinpoint how wet or how dry or even if it will hit average, or what."
One thing is for certain, going into this water-year, statewide, most of the reservoirs are carrying near average or average storage; aftereffects of the huge influx from the 2017 water-year's extraordinary precipitation. Notably, New Melones and Don Pedro are both currently sitting at roughly three-quarters (74 percent) of their total capacities, are respectively at 133 percent and 110 percent of their historic levels for this time of the year.
To view the latest San Joaquin Five-Station Index Precipitation and State Reservoir Storage info-graphs, click into the image box slideshow.