Update: Fallen Firefighters Recognized On Memorial Wall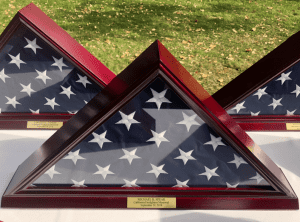 Fire Chief Mike Spear Remembered

View Photos
Sacramento, CA — A late Tuolumne County Battalion Chief, a Twain Harte Fire Captain, and a pilot who played a big part in the early attack on the Rim Fire, all had their names placed on the California Firefighters Memorial in Sacramento over the weekend.
The CAL Fire Local 2881 leadership team and its Honor Guard recognized six of its fallen brothers at the 16th annual California Firefighters Memorial Ceremony in Capitol Park. CAL Fire Battalion Chief Mike Spear was one of those added to the Memorial Wall. It was noted that Chief Spear passed away in August of 2016 from job related heart complications after returning home from the Soberanes Fire in Monterey County. He was survived by his wife Kimberly and two children, William and Molly.
Twain Harte Fire Captain Paul Waite, who passed away in 2016, was added to the memorial. He had spent 25 years in the fire service, and among other things, was known for his commitment to training new firefighters and volunteers.
Also recognized Saturday was pilot Jerold (Jerry) Bonner. He was a member of the Santa Clara Unit and passed away in 2015 while on duty at the Alma Helitack Base. Of local note, Bonner was dispatched out of unit to the 2013 Rim Fire in Tuolumne County and was the pilot that helped rescue hunter Keith Emerald on the first day of the incident. Emerald was later accused by the US Forest Service of accidentally starting the Rim Fire, but charges were eventually dropped. One of the reasons cited in doing so by the federal government was that Bonner had been expected to be a key witness in the trial. Bonner was survived by his wife, two children, and two grandchildren.
CAL Fire Local 2881 President, Cliff Allen, stated, "Unfortunately, every year CAL Fire adds names to the wall which sadly confirms just how dangerous firefighting is. By commemorating our fallen on the wall, we continue to honor those we have lost in the line of duty who will not be forgotten."