Revised Closure Order For Donnell Fire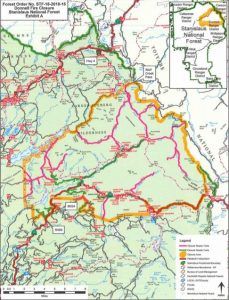 Donnell Fire Closure Order

View Photos
Sonora, CA – A new forest closure order opens up more trails and roads outside the Donnell Fire burn scar to the public.
Campgrounds and day use areas on Highway 108 east of Donnell Vista remain closed, but OHV recreation areas, trails and roads near Niagara Creek are now open to visitors. Trails and areas west of Highland and Weiser creeks on Calaveras Ranger District have also been reopened. This revised closure will be in effect until Dec. 31st or until replaced or rescinded, according to forest service officials.
Stanislaus National Forest Deputy Supervisor Scott Tangenberg shares, "Hunters will also find more areas where they can seek deer, too. The closure area continues to shrink, but there are areas that remain closed. We have installed signs and posted notices to alert the public about these temporary closures. We ask everyone to remain outside the closure area until it reopens."
The blaze burning along Highway 108 in Tuolumne County has scorched more than 36,000 acres and remains 90 percent contained. Current fire suppression efforts, as detailed by forest officials, involves crews and firefighters using heavy equipment in active fire areas. Spokesperson Diana Fredlund notes, "The fire is still smoldering and creeping. It's mostly up in the wilderness area so there is a lot more granite barrier." She adds, "The problem is that we can't say that it is anymore contained because of the remote and rugged location…When you're trying to do containment lines, in order to say something is 100 percent contained, you have to get all the way around it. It is very hard for firefighters to go in and try to lay down those containment lines." Fredlund stresses that right now the flames are very low intensity.
As reported here last week, some severely burned areas will remain closed through the winter due to higher risk of debris flows and rockfalls. The timeline of all our Donnell Fire news stories is here.