Donnell Fire Holding Steady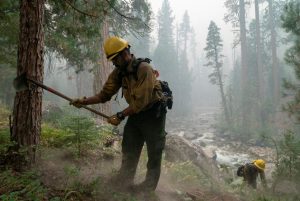 Working on Donnell Fire

View Photos
Tuolumne County, CA — Low fire intensity is working in firefighters' favor as they work towards final containment on the Donnell Fire burning in the Stanislaus National Forest.
The acreage estimate remains at around 36,450 and the containment continues to hover at 90 percent. Forest Service spokesperson Diana Fredland updates, "Specifically with the north side of the fire, near Spicer and the Dardanelles, the fire has been pretty quiet for the last week or so. There are a couple of pockets that have popped up and crews have quickly extinguished them."
Most of the work in that area is recovery, according to Fredland, who notes that crews are rehabilitating the grounds used for fire suppression and areas damaged by the flames. She continues, "On the east side near Highway 108 much of the same work is going on. There is a little bit of creeping and smoldering, but pretty minimal fire activity."
In regards as to when more of the burn scar areas will reopen to the public, Fredland responded, "We do expect that there is going to be some additional sections of the burn area reopening in the next few weeks, but we don't have a specific time frame yet. They will open them up as firefighters complete their work."
That is not the case for areas with severe fire destruction adds Fredland, "Those areas are probably going to remain closed over the winter and not opened at least until spring." She targets debris and mud flows as the biggest problems in those areas because the soils are more exposed than usual.
As for the no-stopping restriction on Highway 108 between Kennedy Meadows and Eagle Meadow, Fredlund believes that will be changing, probably when the next closure order is issued, which could be in the next several weeks.
The fire broke out August 1st. Since then 54 structures have been destroyed along with 81 minor structures. The number of personnel remaining on the scene is about 128 including 5 hand crews, 2 helicopters, 5 engines and 4 water tenders. The estimated containment date is October 31st. The timeline of our Donnell Fire news stories is here.