Owner Gets Stolen Truck Back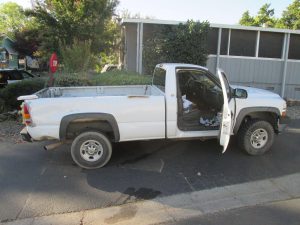 Stolen truck recovered

View Photos
Jamestown, CA — A Sonora man was arrested in connection with a stolen truck now back in the hands of its owner.
A resident noticed a suspicious white pickup parked on Mill Villa Road in Jamestown on Wednesday morning and reported it to Tuolumne County Sheriff's office. A deputy was sent to check out the vehicle and once on the scene they found a man inside the truck asleep. The deputy called in the license plates and the pickup came back as reported stolen from the Junction Shopping Center on Mono Way in East Sonora two weeks ago. The suspect in the truck was identified as 33-year-old Joshua Kelly of Sonora. Kelly was hand cuffed and taken to the Tuolumne County Jail and booked on auto theft charges.
The owner was all smiles when deputies returned his pickup. Even with a dented front bumper and several items missing from inside the truck he was just glad to get his truck back. Sheriff's officials did not identify the exact items taken from the vehicle.