Man Convicted In Complex Domestic Case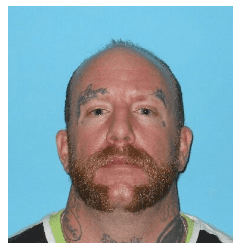 William Kerr

View Photos
Jamestown, CA — The Tuolumne County District Attorney's Office reports that a man was convicted of burglary, inflicting injury on someone he had been dating, and battery causing serious injury.
The DA's Office reports that on July 16 of last year the victim in the case was staying at the Columbia Inn Motel because her home had burned down. She told an officer that she was sleeping and someone was knocking on the door and trying to get inside. The victim went to the door, and it was forced open, hitting her in the face. She fell to the floor and was in and out of consciousness. She could hear her on-and-off-again boyfriend asking multiple times where her money was located, and could feel a sharp edged pain against her throat that she believed was a machete he always carried. Before the sheriff's office arrived, the victim had confided to a close friend what had happened. Sheriff's officials later arrived at the room and found a foot mark on the door and splintered pieces of wood from the broken door jam on the floor. All the drawers in the room were opened and the victim could not find the money that was being sought.
The boyfriend/suspect, William Kerr, was later located and arrested on a variety of charges. However, the victim remained in a romantic relationship with Kerr during the period that followed after the arrest, and wrote a letter to the District Attorney's Office stating that the incident was her fault and the money had been located. At the later trial, the victim stated that the only thing she could remember from the night is that door was forced open and it hit her. However, the witnesses that came in contact with her were able to tell the jury about her emotional state, injuries she sustained and what she told each of them at different times about what had occurred.
The jury acquitted Kerr on an earlier filed robbery charge related to the incident, but found him guilty of burglary, inflicting injury on someone he had been dating, and battery causing serious injury. Kerr will be sentenced on October 24 in Tuolumne County Superior Court. Kerr has earlier convictions of arson, criminal threats and battery, so he could be in for a lengthy sentence.