Calaveras Marijuana Enforcement Destroys Three Illegal Grows Worth Over $9 Million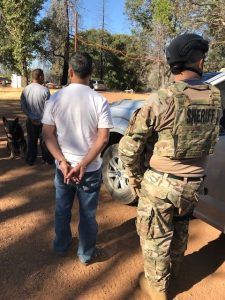 Calaveras County MEP Warrant Search images Sept 19 and 20 2018

View Photos
San Andreas, CA – 'Tis the season and Calaveras County enforcement officials are busy eradicating illegal grows. Yesterday and today they took out three located in West Point and Railroad Flat.
Yesterday's warrant search on Acorn Way in West Point revealed several outbuildings near the main residence converted for marijuana processing and drying along with several bunkhouse-style living quarters, according to sheriff's officials. The Marijuana Enforcement Team (MET) also found and destroyed 225 large marijuana plants, roughly estimated at a street value of $450,000, based on using a $2,000 per plant value.
They also charged three subjects with illegal cultivation, operating a drug house location and criminal conspiracy. Those arrested were Kevin Nguyen, 33, of Rhode Island; Dung Le, 57, from Texas; and Ourn San, 53, with a Massachusetts identification. All were all booked into the Calaveras County Jail and assigned bails of $100,000. Additionally, San was booked for an outstanding extraditable no bail warrant from Alabama on narcotics related charges.
This morning, officials add, the MET served two more unrelated search warrants for illegal marijuana cultivation on Blossom Lane in Railroad Flat. At the first location, they found multiple uncovered hoop houses with marijuana growing in them as well as other cultivation areas with plants in various growth stages.
Over $7M Illegal Plants, Pot Destroyed At One Site
Although no subjects were found, 3,330 marijuana plants were eradicated and about 590 pounds of processed marijuana seized. That translates into roughly $6,660,000 worth of plants. Based on a valuation of $2,500 per pound, the dried marijuana would be worth roughly $725,000.  Officials emphasize that the investigation into the grow site and those responsible continues.
Just down the street on Blossom Lane, deputies detained two subjects at a second illegal grow site, where a motorhome and numerous electrical cords powering various equipment. The MET destroyed 619 marijuana plants on the premises, estimated at roughly $1,238,000 in street value.
Connor Su, 50, of Sacramento and Nhat Ngo, 61, from Elk Grove were booked at the jail for illegal marijuana cultivation, possession of marijuana for sale, maintaining a drug house location and criminal conspiracy. Their bails are still pending.