California's Largest Recorded Fire Now Fully Contained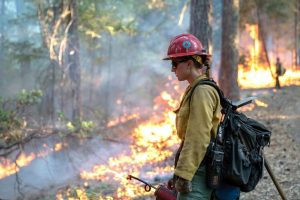 Hotshot firefighter on Mendocino Complex Fire

View Photos
Lake County, CA — A fire that ignited in late July and burned 459,123 acres is now 100-percent contained.
The Mendocino Complex Fire in Lake County also sadly destroyed 280 structures, resulted in one fire fighter death and four other injuries. The US Forest Service reports that work will continue over the coming months repairing suppression impacts and preventing erosion. The fire area in the Mendocino National Forest remains closed until further notice.
The Rim Fire, which ignited in August of 2013 in Tuolumne County, and burned 257,314 acres, was (five years ago) the third largest fire in the state's recorded history. It is now the fifth largest. The Thomas Fire that ignited last year in the Los Angeles area is the second biggest at 281,893 acres, followed by the 2003 Cedar Fire in San Diego County (273,246 acres) and the 2012 Rush Fire in Lassen County (271,911 acres).
The Stanislaus Complex Fire, which ignited in August of 1987 in Tuolumne County, is the 18th largest at 145,980 acres.