Jump In Containment For Boot Fire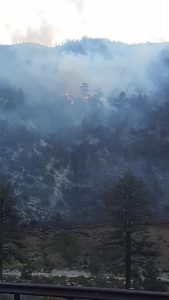 Boot Fire isolated hotspot 9-12-18

View Photos
Mono County, CA – There has been minimal growth on the Boot Fire, but the containment continues to climb.
Since Monday the blaze has only grown an estimated 53 acres to 6,974. The good news is that the containment saw a hike from 52 to 76-percent from the beginning of the week. Fire officials attribute that jump to hose lays and other water delivery systems that are being using to complete containment and repair work. Smoke from a hotspot fires will be visible to travelers along Highway 395. In fact, one along the high slopes of Bootleg Canyon was extinguished using a "blivot" or large water bag, according to fire officials, who relay that these fires are not a threat to containment lines or the roadway as they are well inside the interior the fire. They caution motorists to follow the pilot cars guiding traffic through the area. Additionally, they warn drivers that once out of the cone zones watch out for possible debris falling onto the roadway.
Winds are a concern today as a there is a Red Flag Warning for the area, as reported here. Fire official indicate that these conditions could produce what are called large "dust devils," which can be mistaken as smoke columns.  In the afternoon, when wind gusts are highest, firefighters will be checking for hotspots as due to the extreme fire danger, any new fires that start have the potential to grow rapidly.
There remains 30 structures threatened. On scene battling the blaze are 474 personnel along with 16 hand crews, 6 helicopters, 22 engines and 9 dozers.