Full Containment Reached On Tulloch Fire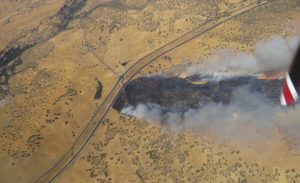 Aerial view of Tulloch Fire on Highway 108

View Photos
Tuolumne County, CA — CAL Fire reports that the final acreage of the Tulloch Fire that ignited on Saturday afternoon is 573.
We reported earlier that the fire ignited around two o'clock on Saturday near the intersection of Highway 108 and Tulloch Road and the forward rate of spread was stopped at around 5pm. CAL Fire now reports that 100-percent containment has been reached and there are no additional hotspots.
Crews worked through Saturday night and early Sunday reinforcing control lines. The fire burned right up to the southern roadway edge of Highway 108 and it was impacting eastbound traffic for a couple of hours. What ignited the fire is still under investigation.
Update: According to Tuolumne Calaveras CAL Fire Unit spokesperson Emily Kilgore in the December 2019 end of year report here "The Sept. 23, 80-acre Tulloch Fire was caused by a vehicle."