Suspects Still On The Loose In Calaveras Hit And Run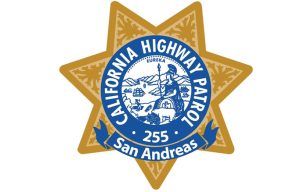 CHP San Andreas Unit logo

View Photos
Calaveras County, CA — The CHP reveals new details surround Tuesday's solo-vehicle hit and run crash on Highway 26 that also uncovered another crime.
As reported here, the wreck happened around 5:30 p.m. at the Woodhouse Mine Road intersection, between West Point and Glencoe. At the time, the driver and a passenger jumped out of the vehicle and jumped into a black sedan, which took off toward Mokelumne Hill. Neither suspect  was apprehended.
The CHP updates that the vehicle involved in the crash was a 2007 Ford F550 truck. The driver lost control of the pickup and hit a tree. Upon further investigation, it turned out that the truck was stolen in June from a property in the community of Pine Grove located on Highway 88.
No injuries were reported in the collision. Anyone who may have witnessed the hit and run or have information regarding the stolen pickup or the sedan that picked up the suspects are asked to call the CHP.