Kennedy Planning Lawsuit Over Sonora's Transit Project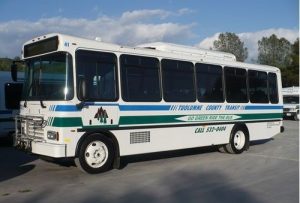 Tuolumne County Transit Bus

View Photos
Sonora, CA — The City of Sonora is moving toward constructing a pair of transit stops on Stockton Street and it is drawing a legal threat from businessman Doug Kennedy.
One of the stops would be directly in front of his Trado Restaurant building at 55 West Stockton Street, and he says it will reduce and limit his ability to park at the business. The second transit stop is planned to be directly across the road on Stockton Street. The area is just down the street from Kennedy's Sonora Armory Project that is under construction, which will be anchored by a beer garden. He tells Clarke Broadcasting that the Armory is around 95-percent completed, but he will not open until the legal matter is worked out with the city. The lawsuit has not yet been filed, but he says it will be "soon."
The lawsuit stems over Councilmember Connie Williams being one of the three needed votes in favor of the transit location. Kennedy says that Williams has abstained from other matters regarding his businesses because of a past legal dispute between he and Stage Three Theatre Company, of which Williams was a board member.
Kennedy says he hopes the end result of the lawsuit will be that the city either scraps plans for the transit project, or decides to construct it in a different area.