Meals On Wheels More Than Stayin' Alive Following Successful Fundraiser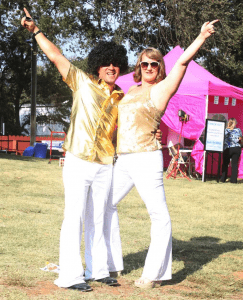 Saturday Night Fever Fundraiser for Meals On Wheels at Railtown 1897 Aug 25 2018

View Photos
Jamestown, CA — Putting on their boogie shoes, 500 folks turned out for a Saturday Night Fever themed party for a cause that aimed to raise $100,000 for Meals On Wheels.
Complete with mirrored balls and a disco inferno playlist, the event, which was set at Jamestown's Railtown 1897, featured train rides, live and DJ entertainment, dinner catered by Black Oak Casino Resort's Seven Sisters restaurant. While the numbers are still being crunched, according to the event's co-chair Ron Patel, community sponsors and the sell out crowd demonstrated without any jive talkin' how deep their love was for supporting the program.
Reaching deep into their pockets, he estimates the effort reached the fundraising goal — which represents about a quarter of the annual operating costs of helping provide Meals On Wheels to local folks who need them — that will also assist in restoring the previously curtailed Tuesday hot meals delivery service.
Patel recounts, "The theme worked out incredibly. It was probably the most contestants that we had dressed up in the…theme and it was a sellout a few days before the event." Asked for any takeaways from the evening, he says gratefully, "So many businesses and organizations gave on the sponsorships — and so many people gave on the night in terms of the silent and live auctions and the raffle prizes. So it is just a huge 'thank you' to the community for helping us achieve our objectives — just thank you, thank you, thank you!"
To view images from the evening by Mark Nouillan, click into the image box slideshow.