State Climate Report Predicts More Dangerous Fire Seasons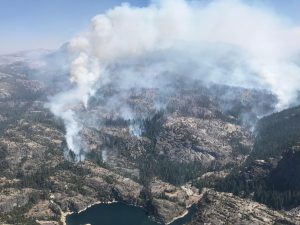 Donnell Fire

View Photos
Sacramento, CA — A new state report predicts that California's wildfire season will get notably worse in the many decades to come.
The report was released by the California Natural Resources Agency and focuses on expected impacts of rising temperatures. It predicts that climate change will make forests much more susceptible to extreme wildfires. Some of the takeaways are that by the year 2100 the number of mega fires burning over 25,000 acres will likely increase by nearly 50-percent. In areas that are highly prone to wildfires, the cost of wildfire insurance will gradually increase and more homeowners may decline to purchase it. By 2050, the Central Valley is projected to experience heat waves that last two weeks longer than those today, and the Northern Sierra region should experience hot spells four to 10 times more often.
The report was put out by the state to help serve as a guide and resource when integrating climate impacts with long-term planning.
Governor Jerry Brown says, "These findings are profoundly serious and will continue to guide us as we confront the apocalyptic threat of irreversible climate change."
The report also notes that energy costs and electricity demands are projected to increase due to more use of air conditioning units.