Two Illegal Grows Raided, Environmental Hazards Found A Second Time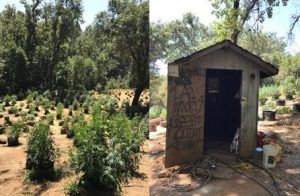 Raided illegal marijuana grow in Calaveras County

View Photos
Calaveras County, CA — More than 650 plants were destroyed at two illegal marijuana grows– one in San Andreas and the other in West Point.
The Calaveras County Sheriff's Office Marijuana Enforcement Team carried out two raids on Thursday.  They found hazardous chemicals at both locations for a second time, as both properties had also been searched in 2017 with similar results.
The first raid took place in the 2000 block of Andreas Vista Drive in San Andreas where 191 large marijuana plants, averaging 8-10 feet in height, were eradicated. The second grow was located in the 600 block of Smitty Lane in West Point. On that property, 465 marijuana plants were destroyed.
Any suspects were long gone when the raids took place, but according to sheriff's officials "several egregious environmental violations" were discovered. They included stream diversion, pollutants in or near a waterway, oil dripping directly into an open well, open trench sewage along with unsafe electrical and generator connections.