Cause For One Of Three Firefighters Killed In The Carr Fire Released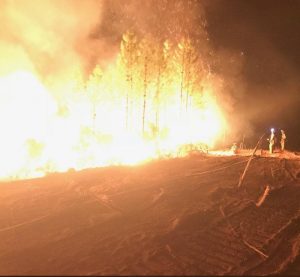 CAL Fire Nevada Yuba Placer fire personnel fighting the Carr Fire July 26, 2018, as shared by the Shasta Trinity Unit and Shasta County Fire Dept

View Photos
Sonora, CA – CAL Fire investigators have released the cause and details surrounding the death of one of three firefighters killed in the Carr Fire burning in Shasta and Trinity counties.
The official cause of death for the first firefighter killed in the blaze, Redding Fire Department Inspector Jeremy Stoke on July 26th, was a fire tornado. CAL Fire explains that within seconds he was engulfed by the flames of the tornado, with a base the size of three football fields. The winds had also picked up to 165 miles an hour fueling the fiery twister.
During the time of his death, according to a report obtained by the San Francisco Chronicle, Stoke was going door to door alerting residents to evacuate their homes. While driving his pickup down a road in northwest Redding, he radioed out a "mayday" call that he was getting burned over, and then his transmissions abruptly stopped.
As reported here earlier, the mega Carr Fire broke out on July 23rd and has since then burned 214,527 acres. To date it is 71-percent contained. A total of eight people have been killed in the blaze including a great-grandmother and her two grandchildren.