Anglea Appointed New SCC Warden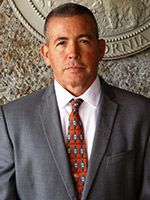 Sierra Conservation Center Warden Hunter Anglea

View Photos
Jamestown, CA – A promotion for the Acting Warden of the Sierra Conservation Center (SCC) as he now officially takes over in that top spot.
Governor Jerry Brown today announced the appointment of 58 year old Hunter Anglea of Janesville as the new Warden. Hunter replaced Warden Joel Martinez and was named SCC's Acting Warden in December of 2017. Before that he was the prison's Chief Deputy Administrator.
Anglea came to the Jamestown facility from the High Desert State Prison in Susanville in Lassen County where he held the post of correctional administrator for nearly three years.   He also served in that role as well as facility captain, captain, lieutenant, correctional counselor II and sergeant at California Correctional Center also in Susanville from 1989 to 2014. Prior to that, he was a correctional officer at Folsom State Prison from 1983 to 1989.
Anglea's annual salary is $154,308.