High Sierra Wildfires Impact Tuolumne County Tourists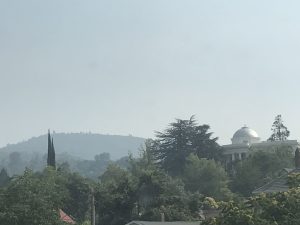 Drift Smoke In Sonora

View Photos
The wildfires around the Mother Lode and in the high Sierra Nevada have an effect on tourism this Summer in Tuolumne County.
Lisa Mayo, Executive Director with the Tuolumne County Visitors Bureau (TCVB), was Thursday's KVML "Newsmaker of the Day".
"The biggest question that we've been asked from people who have not yet arrived here is what the air quality is like and mountain pass road closures. The visitors who are already here are asking about indoor activities in the Mother Lode. We are providing a list of ten activities you can see or do indoors in Tuolumne County," said Mayo.
Because of the bad air quality, the closure of Highway 108 at Eagle Meadows and the recent closure of Highway 120 Tioga Pass at the west entrance of Yosemite National Park, Mayo knows there is and will continue to be an immediate economic impact on lodging, camping and recreation but does not have any specific numbers yet.
"The TCVB will heavily focus our marketing for the Autumn season to inform the visitors of everything that Tuolumne County continues to offer," said Mayo. "The TCVB is committed to giving tourists the most accurate and honest information available."
Visitors can visit the website, VisitTuolumne.com or stop by any of the Tuolumne County Visitors Centers for assistance:
Groveland:18990 Main St. Groveland, Ca 95321. (209)962-1802
Chinese Camp:13785 Highway 49/120 Chinese Camp, Ca 95309. (209)984-4636.
Sonora: 193 S. Washington St. Sonora, Ca 95370. (209)533-4420.
The "Newsmaker of the Day" is heard every weekday morning at 6:45, 7:45 and 8:45 on AM 1450 and FM 102.7 KVML.