Donnell Firefighters At Bennett Juniper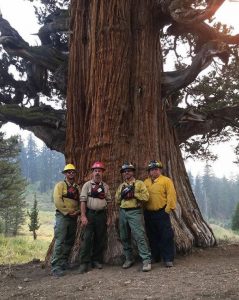 Photo by Scottsdale Firefighters
Stanislaus National Forest — A historic landmark is near the Donnell Fire footprint. The Scottsdale Firefighters Association shared an image of Arizona firefighters in front of the Bennett Juniper. They are currently assigned to fight the Donnell Fire in the Stanislaus National Forest.
The Association says, "Scottsdale firefighters have moved to the Donnell Fire in California. They have been evaluating and preparing structures that are in the fire's path. They stopped to snap a photo at the Bennett Tree, one of the largest known Juniper in America….Keep up the hard work brothers!"
The Bennett Juniper is managed under the Bennett Juniper Stewardship Project by Save the Redwoods League. The League says the tree is estimated to be somewhere between 2,000 and 6,000 years old. The Bennett tree is at 8,400 feet elevation and has a radius of 7 feet 2 inches and a height of 82 feet. The Nature Conservancy conveyed it and the surrounding buffering land to the League in 1987. Before then, rancher JW Martin Sr. protected the tree until donating it and the surrounding three acres in 1978 to The Nature Conservancy.
The tree is named after naturalist Clarence Bennett, who studies junipers in the early 1890s. Juniper "shrubs" can reached heights of 50 to 70 feet and core samplings showed many to be at least 1,000 years old. More about the Bennett Juniper is here.
The video of the Juniper caretaker is from October 2010.
Details on the Donnell Fire are here, resources continue to be requested for the incident which is one of many in California.