Update: 75 Percent Containment Gained On Parrotts Fire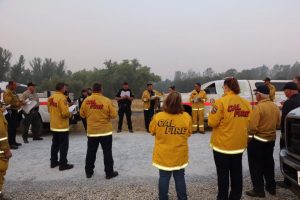 Parrotts Fire In Calaveras County

View Photos
Update at 6:43pm: CAL Fire officials say firefighters were able to contain the Parrotts Fire to 136 acres on Monday while making gains in getting it three-quarters contained.
Original Post at 7:57am: Calaveras County, CA — CAL Fire reports that the Parrotts Fire in Calaveras County is up to 60-percent containment and it is holding at 136 acres.
Firefighters will continue to build and strengthen lines throughout today. The fire is situated outside of Vallecito along Camp Nine Road, about four miles away from Parrotts Ferry Road. The forward rate of spread remains stopped. Click here to view a recap of the fire from yesterday.