6 Different Events In the Mother Lode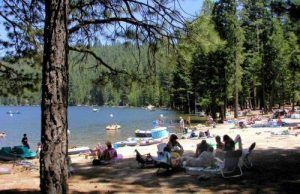 Mother Lode Recreation

View Photos
Attend some events this weekend, keeping in mind the weather will stay in the 90's in Sonora but will be cooler at higher elevations with thunderstorms and also smoke from the Ferguson Fire that may come and go.
Yesterday there were still three tickets left for Friday's San Francisco Giants vs Oakland A's game special event benefit for Habitat for Humanity.  For those who will be escaping the smoke to attend there will also be fireworks in addition to the game. More details are in the event listing here.
The Sonora Moose Lodge is hosting a benefit golf tournament. The golf and dinner details are in the community calendar.
As reported in Wednesday's KVML "Newsmaker of the Day"  the third annual Westside Tribute Band Brewfest will take place Saturday July 21st at the Westside Pavilion in Tuolumne City. The non-profit event is for the benefit of the Summerville High School football program. The event details are here.
Twain Harte Concerts in the Pines continue at Eproson Park. The event is hosted by the Twain Harte Area Chamber of Commerce for free with a bucket is passed around to help defray the cost of the bands. There also a gift basket raffle.
Learn from Park Rangers; at Donnell Vista, try Painting with a Ranger; at Glory Hole Recreation Area, study Bird Nest Architecture; at Pinecrest Lake, try Cowboy Coffee.
Plays: The Foreigner, a comedy, is playing at Murphys Creek Theatre. The play is about a shy man named Charlie who overhears a lot of interesting things while staying at a fishing lodge. At Sierra Repertory Theater's East Sonora Theater Pageant: Musical Theatre is playing. The Pageant features six beauty contestants battling for the title of "Miss Glamoresse" with the added twist; the contestants are all played by men. The show is rated PG-13. At Sierra Repertory Theater's Fallon House Theatre in Columbia Disney's Beauty And The Beast: Musical Theatre is playing. Next weekend, the last weekend in July, the show will wrap up.