Judge Calling Two Jury Panels For Anderson Trial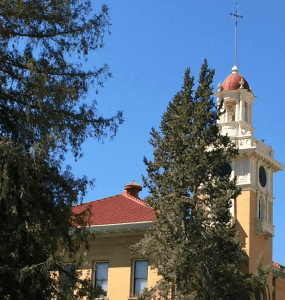 Sonora Old Courthouse Building cupola

View Photos
Sonora, CA — Ahead of tomorrow's jury selection for the trial of a Sonora physician accused of triple-vehicular manslaughter, the judge detailed plans at a readiness conference to call 120 prospective jurors.
Somberly dressed in a dark suit the defendant, Dr. Danny Anderson, appeared with his attorney Tom Johnson and quietly took notes as Judge Donald Segerstrom continued through a final check list of items while conferring with counsel on both sides.
After all concurred that the jury questionnaire was ready to go, the judge explained that in order to gather a sufficient pool from which to seat 12 jurors and six alternates he would be calling two jury panels of 60; one at 8 a.m. and the other at 1:30 p.m. Thursday, the attorneys will go over the questionnaires; Friday, returning jurors will arrive  at 8 a.m.
The judge currently estimates that the trial will take ten to 15 working days ahead of the deliberations phase. Speaking to the handful of people who turned up to watch the proceedings, he set his expectations for the audience in the days ahead, emphasizing a near-zero tolerance for emotional outbursts and speaking out or towards prospective and chosen jurors.
Case Document Deliberations
Among the last incoming documents to sort out, the judge acknowledged receiving a set of subpoenaed records of the purchase and sale of vehicles from Rydell Chrysler Dodge Jeep Ram in San Fernando. These relate to a sale of the white SUV owned by Anderson and his wife Diane, who is being tried separately as an accessory. District Attorney Laura Krieg acknowledged that an initial set mistakenly sent to her office was opened but then subsequently copied and made available to the defense. The judge directed her office to examine the second packet for consistency and provide duplicate copies to the defense.
The vehicle sale occurred sometime after the fatal collisions along La Grange Road that were allegedly sparked by Anderson on Oct. 21, 2016 after crossing over double-yellow lines in it to pass in the face of oncoming traffic.
Too, attorney Johnson queried the judge for his pending decision to release a subpoenaed CHP work log for Feb. 16, 2017 that he had jointly requested along with Kirk McAllister, Mrs. Anderson's attorney, as part of their discovery process.
Krieg had earlier stipulated concerns over opening the record in the event of revealing privileged information. Notably, Feb. 16 of last year was the date, as reported here, that the CHP issued its release that initially identified Dr. Anderson as the driver of a vehicle its investigators had been seeking in connection to the case. After briefly retiring to his chamber to review the document, Judge Segerstrom informed counsel it could be released as an open record.