More Bear Activity Reported In Sonora Area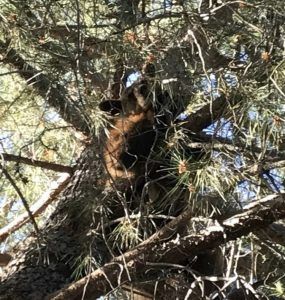 Bear At Star Mobile Estates

View Photos
Sonora, CA — The Tuolumne County Sheriff's Office notified California Fish and Wildlife about several more bear sightings last night.
We reported earlier that a mama bear and her cub were rummaging through trash cans on Monday in the Star Mobile Estates on Jamestown Road in Sonora. Last night a bear, believed to be one of the same from the night before, climbed into the backyard of residence on Robinwood Lane to explore. The incident was one of several bear sighting reports called into the sheriff's office by nearby residents.
Sgt Andrea Benson says, "Remember distance equals safety."
She adds, "If you encounter a bear in your yard, chances are it will move on if there is nothing for the bear to forage, which was the case this evening. If there is enough distance between you and the bear, you can encourage the bear to leave by using noisemakers or blowing a whistle."
In addition, it is important to secure garbage cans and make sure there is no food they can access.