Vote Count Jumps Significantly But Not Much Change On Races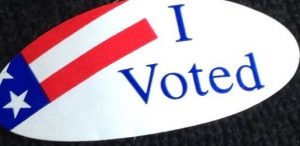 I voted sticker

View Photos
Sonora, CA – The vote tally spiked notably in Tuolumne County since Tuesday's primary election.
With an more than 4,600 votes counted, County Clerk and Auditor Controller Debi Bautista gave this update to Clarke Broadcasting, "We still have about 300 votes by mail ballots, some that came in on Friday, that still need to be processed.  Then we also have 87 conditional votes and 536 provisional ballots that can't be done before the roster is processed. So, we will still be working strong on Monday, but almost all of the votes we received on Tuesday night, Wednesday and Thursday by mail have been processed."
The new numbers put Measure L, which was still "too close to call" the day after the election, in a good position to pass. It calls for a tax hike to keep 24/7 ambulance service in the Groveland area, as reported here. Bautista notes, "The only race that was a little bit close was the south county ambulance zone and it actually got a little stronger up 271 yes votes to 103 no votes or 68.98-percent to 31.02-percent. So, it got a little stronger in favor."
There was little change to the two county supervisor races as both will go to run-offs in the November election. However, in District 2, the percentage dropped slightly for incumbent Randy Hanvelt with a decrease from 46.29-percent to 44.91-percent. He will face off against newcomer Ryan Campbell with 33.69-percent of the votes. In District 3, there will still be a run-off between Anaiah Kirk, whose numbers rose slightly, against challenger Laurie Sylwester that saw a minimal percentage drop.
Voter turnout in the county was around 50-percent, which is stronger than the last mid-term election in 2014, according to Bautista. She adds that more than 80-percent of the ballots came through the mail with only about 2,600 physically voting at polling stations on Election Day. Bautista projects all the ballots will be counted by mid-week, with certification expected about a week later.