Young Child Bitten By Rattlesnake In Calaveras County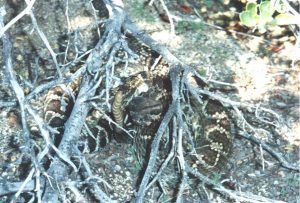 Rattlesnake in brush

View Photos
Valley Springs, CA — It is an incident proving that you need to be very aware of your surroundings this time of year….the Calaveras Consolidated Fire Department and CAL Fire responded to a report of a four-year-old boy being bitten by a rattlesnake in Valley Springs yesterday while playing in his backyard.
The Calaveras Consolidated Fire Department reports the child was not wearing shoes and was bitten on the foot. Officials were dispatched to the incident on Paradise Peak Road. The four-year-old received medical treatment and is expected to be okay.
Residents are advised to take extra precaution this time of year when outside. When working in the yard, and there is tall grass, it is best to avoid being barefoot or wearing flip flops. The Calaveras Consolidated Fire Department adds that you should also be very cautious putting your hands under bushes or rocks.
Click here to read an earlier story from this month detailing a spike in rattlesnakes this spring.