Experts Warn: Rattlesnake Season On A Roll This Year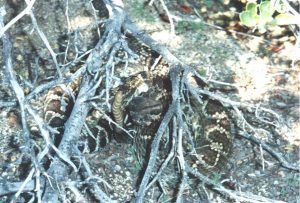 Rattlesnake in brush

View Photos
Sonora, CA – It appears the rattlesnake population in the Mother Lode is rearing its head for an unusually active season.
Rattlesnakes are normally out and about from April through October. However, due to a rising number of calls for help that rose through April compared to years past, the California Poison Control System (CPCS) issued an alert when it became clear that the number of assistance calls seemed uncharacteristically high.
While rattlesnake bites are far down on the list of environmental injuries that people suffer, CPCS itself reports that it normally averages about 300 calls a year for emergency assistance on handling rattlesnake bite incidents. This past April alone, they logged nearly two dozen.
Bites Beginning To Occur Locally
As of last week, health officers in Calaveras and Tuolumne counties had not yet heard reports from local hospitals to alert the public. But Amador County Health Officer Dr. Rita Kerr posted a notice this past week because Amador Sutter Hospital admitted two patients for anti-venom treatment after they suffered bites in separate incidents. Kerr adds there is speculation that there may be more rattlesnakes this year due to the late wet spring and more rodents, their main food source.
Because they can be fatal, rattlesnake bites should receive immediate medical treatment for symptoms that can range from painful swelling and or bruising to tissue damage and bleeding issues. Victims may experience nausea, swelling in the mouth and throat making it difficult to breathe, drooling, muscle-twitching and/or lightheadedness. In some cases they might collapse or fall into shock in rare cases. Oddly, some human victims report a metal or minty taste in their mouth.
Kerr says rattlesnake bite victims should remain calm, remove jewelry and constrictive clothing and refrain from running. If bitten on a limb, immobilize it in a level position at or below heart level. Do NOT cut or suck the bite area — or apply ice or a tourniquet.
Animals Already Getting Nailed
Of course, pets are also at risk. This reporter's naturally curious Australian shepherd-terrier mix recently spent the night at Angels Camp Veterinary Clinic while Dr. Alyssa Thomas gave him the canine version of the anti-venom treatment. While we did not witness his rattlesnake encounter, we quickly recognized something was wrong. He had trouble breathing, became completely listless and had dark gunk on his snout that turned out to be blood from twin oozing wounds about a half-inch apart.
She shares that the clinic had already treated several animals for rattlesnake bites since April 1 and that bite cases generally turn up earlier in the season at vets' offices than in the hospital ERs. Our boy Bodhi, who we rushed in for treatment within two hours of his bite, rebounded nicely; our wallet however is still feeling the bite of a $1,700 emergency treatment bill due to the pricey cost ($960!) of the required anti-venom serum.
Besides looking out for our pets and kids, experts say best prevention practices are to take precautions when outdoors. Avoid looking under rocks, disturbing woodpiles or kicking loose brush and bushes where snakes may quietly lie. They are most active at dawn and dusk. However, since rattlesnakes do not always make a rattling sound, be aware you could stand next to one and not even be aware it is there.
More Common Sense Prevention Tips
• Wear boots and long pants when moving through areas where snakes may reside
• Stay away from underbrush and tall weeds and travel along trails and paths
• Do not touch or disturb a snake, even if it appears dead
• Carefully inspect logs or rocks before sitting on over stepping over them.
• Never visit remote areas alone and have someone along who can assist in an emergency
• Teach children to respect snakes and to leave them alone
• Consider a rattlesnake vaccine and/or avoidance training for your dog(s)