Amgen Tour Of California To Pass Through Calaveras Thursday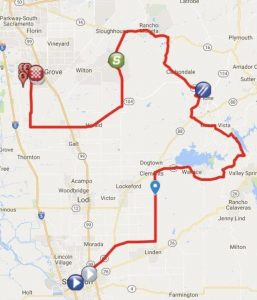 Amgen Tour Of California Stage Five Route

View Photos
Burson, CA — The largest bicycle race in North America will go through Calaveras County tomorrow, and the CHP is warning motorists to be prepared for some brief roadway closures.
Stage Five of the Amgen Tour of California will leave Stockton at 11:20am and head northeast into Calaveras County, utilizing roads such as Highway 12, Burson Road, Camanche Parkway South, Chili Camp Road, Campo Seco Road and Sandretto Road. It will travel through the towns of Wallace and Burson before heading north to Amador County. The stage will end in Elk Grove around 3:40pm.
San Andreas CHP Officer Toby Butzler says, "For this type of bike race there will be a rolling closure. You'll see Highway Patrol motorcycle units and car units as well. We're going to temporarily block access to the roads while the bicyclists go through. Thankfully it is usually a pretty big group and they travel very fast, so any of the closures you see should be only 5-10 minutes at the most."
If you are going to travel through the route area, Officer Butzler encourages you to take a quick break and enjoy the brief activity. Or, if you want to avoid the closures, you should plan to take an alternate route.
Sonora received exposure from the Amgen Tour in 2012 when it was selected to be one of the host cities. The Amgen Tour is aired nationally on the cable NBC Sports Network.