Mother Lode's SierraXplosion Win National Championship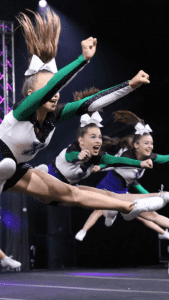 Sierra Xplosion Senior Team in action at National Finals in Las Vegas May 2018

View Photos
Sonora, CA — Student-athletes from "little Sonora" brought back a national title following U.S. Finals in Las Vegas.
According to Sierra Xplosion Director Andrea Kneiss, all three of her all-star competitive cheerleading teams turned in perfect performances at the U.S. Finals over the weekend. Their multi-discipline team sport involves mastering gymnastics, dance and stunting skills.
She proudly reports that the Senior Team athletes — in what she describes as a true "Cinderella" story of resilience — came in on top in their division and are now National Champions. Along with the title, the girls, wearing their "big white championship jackets," toted a nearly 20-pound trophy back home to the Mother Lode.
It was an especially sweet victory for the Seniors, Kneiss confides, because they did not place in any of their competitions this year until recently in Anaheim. It was their last opportunity to get a first, second or third that would allow them to progress to the U.S. Finals. As reported here, that team effort earned them a third place while the Mini and Youth teams respectively won first and placed second.
A 'Big' Trip In More Ways Than One
Impressively, the trip to the U.S. Finals was the first for the teams, which are in their second year, and takes a special invitation. Their Las Vegas journey, which required many to board a plane for the first time, was another part of what Kneiss describes as a "big experience" for all involved.
"The craziest thing was when we first arrived, realized that out of ten teams they were going up against — only two were from California —  us from Sonora and the other from San Diego. I did not know that going into the competition," Kneiss recounts. "So we were really intimidated because when we looked at our schedule…we were going up against these big teams from big states with gyms a lot bigger than ours, so we were really proud about that."
Sierra Xplosion's Youth and Mini teams placed fourth and fifth, receiving zero scoring deductions and also hitting their routines perfectly, according to Kneiss. "It was a big deal…everybody there was selected to be there and that is an honor in itself…the same caliber of athletes – there was not a weak team there," she adds.
To view photos from the trip and competition, click into the image box slideshow. Following a two-week break, Kneiss shares that the athletes will kick off training for the coming season with team placement try-outs June 2-3. For more details about the program, click here.