Sierra Xplosion Champion Athletes Head To U.S. Vegas Finals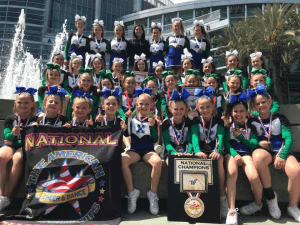 Sierra Xplosion Teams American Showcase Anheim April 2018

View Photos
Sonora, CA — "It's Vegas, baby" next month for the Mother Lode's all-star competitive cheerleading teams whose recent wins have qualified them for the U.S. finals.
Currently in year two of operations according to owner-director Andrea Kneiss, the Sonora-based Sierra Xplosion program racked up impressive victories earlier this month at the American Showcase in Anaheim. Altogether the three teams, which are made up of student-athletes from both Tuolumne and Calaveras counties, brought back two national champion awards along with second and third place honors.
Recounting the experience, Kneiss enthuses, "It was the most teams that they had ever competed with in their divisions. The most impressive part is that we are going against teams with huge gyms…from all over…and for all my teams to place, and then especially my Minis to place first — it is just unbelievable — coming from this little town."
Cheer Skills Plus Equal All Star  
For the uninitiated, All Star cheerleading is a competitive team sport that involves skills from several other disciplines such as gymnastics, dance and stunting. As Kneiss puts it, the programs do not cheer for other sports teams — they are the team.
Over the past year athletes have also competed in Davis, Sacramento and Stockton. Kneiss says that her Mini Dyn-o-mite and Youth Fusion teams have steadily placed first or second in these other events. She describes having them do so again in Anaheim while also having the Senior Nitro team take third — and also pick up a first place National Champion award in the Individual Senior Stunt Group division — as sweet indeed.
When the U.S. Finals in Las Vegas take place May 12, it will be a "huge experience" for the Sierra Xplosion athletes, Kneiss confides. Not only is it a first for them to compete at that level, it is also the first time the teams are flying and not driving to their destination.
The national governing body, the United States All Star Federation (USASF), sets the divisions, levels and requirements for competition and also administers competitions. Kneiss, as a certified Level 1-3 USASF instructor, complies with USASF safety, training and sportsmanship initiatives. Known for serving as the stunt coordinator and assistant coach for Summerville High School, she also holds a Stunting and Spirit Certification from the National Federation of State High School Associations and is certified by the American Association of Cheerleading Administrators.
To view the group photos from the American Showcase competition, click into the image box slideshow. The team awards and athlete rosters are listed below…
— Individual Senior Stunt Group/National Champions, Level Two – 1st Place:
Taylor Lowell, Lydia Pinney, Kairi Insalin, and Kenzie Dolman
— Mini Team – Dyn-o-mites/National Champions, Level One – 1st Place: Gracie Anderson, Berlin Byington, Ally Lee, Brilyn Flanagan, Jenna Zuniga, Kaydance Buzinskis, Mesa Barnum, Madison Questo, Abigail Radetich, Reesie Wong and Taylor Brown
— Youth Team – Fusion/Level One – 2nd Place: Alliyah Richards, Jenna Souza, Jacee Vallelunga, Madison Galvez, Cherish Questo, Molly Hildebrand, Reghan Miller, Darci Fields, Adalyn Questo,and Madison Questo
—  Senior Team – Nitro/Level One – 3rd place: Devyn Pryor, Brenna Flanagan, Emily Parish, Grace Phillips, Abigayle Tucker, Hannah Burns, Kairi Insalin, Kenzie Dolman, Leona Kahana, Lydia Pinney, Madelyn Weigold, Madison Pinckney, Madison Cribbs, Megan Scott, Sarah Caldera, Sydney Sells, and Taylor Lowell